Are you wanting to build a WordPress website from scratch for your business and don't have the techy skills? Here is a step-by-step guide to achieve your dream.
WordPress website is easy today with WordPress CMS.
Starting a business online and wanting to build a WordPress website to gain online presence and sales? Then you are at the right place.
Sure every small and large-scale business wants to be online today, just to gain more online presence. Moreover, it is another means to boost the business's brand.
Before you continue, you may want to read the 7 truth you must know about online business.
One truth is that, as a small business owner, one important skill you need to know currently is how to make a website.
Either without coding using WordPress i.e. WordPress website, with coding using HTML, CSS or with website builder.
At this point, let me give you reasons why you need to know how to make a website;
You do not need to spend a lot of money hiring website designers and developers.
It will allow you to be acquainted with the latest updates and trends, and putting new things on your website without consulting any web programmer.
Knowing how to make a website help keep you on top your rivals, as they are battling on how to resolve their website issues by consulting a developer, you are resolving the issues yourself.
With all these reason just been mentioned, the most important mystery in this post is that you will be able to make a website using WordPress and you will be creating a wonderful website for your business or project on your own.
Related Articles: Blogging Mistakes to Avoid, Blogging Tips and Tricks for your online success and Effective Blogging SEO strategies for your search engine visibility.
Most importantly, the Do-It-Yourself approach (without coding skills) I am presenting in this post, is exceptionally budget-friendly.
I will be guiding you through on how to make a website using WordPress.
In fact, at the end of this guide you will have a functional, beautiful website that will not cost you your mind.
Web Solutions Blog's content is without charge. So this post contain referral links, when you purchase any product through these links, I earn a commission. Thank you
So let us get started with creating your own WordPress website today.
This is a step by step guide on how to make a WordPress website on your own
These are the important things you need to start your WordPress website
Get a domain name for your website.
Host your domain name with a web host provider (I am recommending Bluehost).
Installing WordPress via the Bluehost dashboard.
Decide on a free or Premium WordPress website theme.
Install essential WordPress plugins that will help your website growth.
Creating your pages and blog posts.
Okay, let us start:
Step 1: Your Website without Coding Starts with WordPress Software.
On a serious note, the web has a lot of website platforms that aids building a new website. It is called Content Management System (CMS).
This system has tools that make it easy to for you to edit your website content without coding skills. With these CMSs, you can create and publish new pages or document.
According to Wikipedia, there are more than 100 CMSs on web, but you need not to be afraid; Because, I have picked the best for every of my readers coming onboard.
Interestingly, when it comes to building website, WordPress is the best. 33.4% of all the websites uses WordPress, and has 60.4% market share of content management system.
It is an open source platform that helps everyone to run websites with very little or no coding knowledge.
Biggest names like TechCrunch, The New Yorker, Variety and MTV News, are built on WordPress. So your WordPress website can only run with WordPress.
Let choose a name for your WordPress website.
Step 2: Pick A Name And A Host For Your WordPress Website,
For you to start making a WordPress website, you need to pick a name as a brand. You can make a choice of any name you wish for your WordPress website.
Note, there are about 2 billion websites on the web (at the time of writing this post) and your desire name might have been taken, but do not fret you have various beautiful options.
For instance, I planned to use websolutions.com for this blog, but found that it has been taken. So, I decided to add e at the end of websolutions, standing for Emmanuel, my name.
Finally websolutionse.com (Web Solutions By Emmanuel) is a reality today. Make sure to choose a name around your business (yourbusinessname.com) or your personal name (yourname.com)
Tips to choosing a Domain Name.
Follow these tips below.
It should be a brand name – make it only one of its kind out there in the market
Make it easy to remember by users
Make it simple and short – at least a combination of two to three words
Add niche-related keywords – if your WordPress website is about electronic store, it will be wise to include electronic in your website name.
Buying your domain name and web hosting
In buying your domain name and web host for your WordPress website:
I recommend using Bluehost. Here is my reasons:
Bluehost is a trustworthy hosting provider
It is optimized for WordPress
It is recommended on the official WordPress.org website
It has cheap hosting plan for beginners
It is easy to use and beginner-friendly
You get a free domain when you buy any hosting plan
So let us go get your domain name and host for your WordPress website now.
Follow this link here to go to Bluehost.
Now that you are on the page, click on the "Choose Plan" button. When starting a new site, choose the basic plan – cheapest plan it is to be enough.
It is only $3.95/month against $7.95/month. Now, enter the domain name you have chosen for your WordPress website: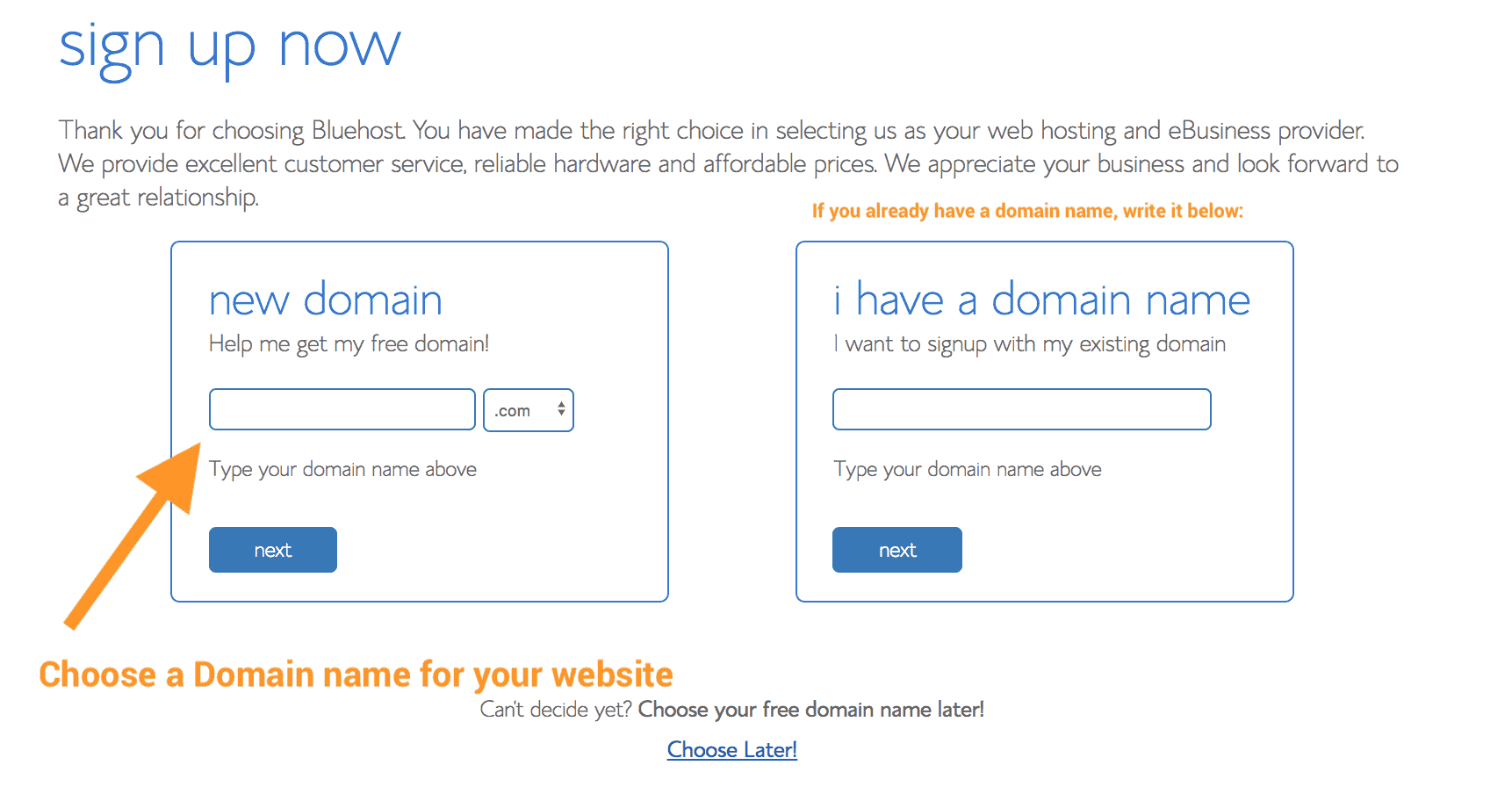 Next, put in the appropriate details:
Check and authenticate the details you have provided of the hosting setup that you have chosen.
Click on "SUBMIT" and conclude your purchase.
Install WordPress Now
Now that you have gotten your domain name and hosting from Bluehost, it is time to install the WordPress software.
First collect the login details sent into your email by Bluehost. These details are information needed on how to log into your customer profile
So you can begin working on your WordPress website. Once you have logged in, there is an easy to use dashboard that will help the process of installing WordPress on your hosting setup.
On the other hand, you can also install WordPress by going to the My Sites section
And click on the Create Site button:
You need your new WordPress website name, username and password in order to install the WordPress.
Once you have completed the configuration set-up, your site is installed and ready to go!
Step 3: Setting Your WordPress Admin Panel
You can access your WordPress user panel via www.yourdomain.com/wp-admin/
Your dashboard will look like this;
Use your access details you have set previously in Bluehost to log in. After you have successfully signed in, this is the main WordPress interface.
WordPress Dashboard – this is where you find most of the shortcut link. The status of your site and what is going on with it.
Posts – You create and publish blog posts in this section.
Media – You upload and manage images and other media files here.
Pages – Here you can create pages and sub-pages.
Comments – this is where you can approve or disapprove comments.
Appearance – this section allows you to change or customize your site's design
Plugins – You get to install or uninstall new plugins here.
Users – You can add or remove users' accounts that access the admin panel of the website.
Settings – Here you have the main settings to your WordPress website.
Navigating The Settings Of Your WordPress Admin Panel
At this point, let me guide you through the basic WordPress Admin Panel settings that will help improve your WordPress website as you go.
Permalinks
The permalinks describes the structure of your webpage addresses within your site.
The best optimized structure is to include the page's title in your WordPress website URL.
Follow this step to set it up
To set your permalinks, go to Settings → Permalinks from the main sidebar in your WP dashboard.
Once there, select this setting: yourdomainname.com/%postname%/
Get Google Index Your WordPress Website
Let google find and index your site.
Follow this guide to set it up,
Go to Settings → Reading, then unchecked "Discourage search engines …"
Set Your Website Title And Tagline
Your site title and tagline will appear in different places within the site.
Go to Settings → General → Site Title and Tagline fields to what you want.
The tagline is not compulsory – you can leave it blank if you do not have a anyone for your site.
Comments
Allowing your readers, leave a comment on your post is a way of building a community within your website.
This section allows you to approve or disapprove comment. Let us set it up.
It can be done in Settings → Discussion.
Pingbacks and Trackbacks
Following setting in Settings → Discussion.
Time Zone
Time zone allow you to set the time of publishing your post either according to your location
Or your targeted audience location. It is all you choice.
You can set the time zone in Settings → General → Time Zone
Now that we are through with the basic settings, let go choose a theme for your WordPress website.
Step 4: Pick a theme for your WordPress website
Themes are templates designed to enhance the beauty of your WordPress website.
With WordPress, you can have an interchangeable design using themes.
What I mean to say here is, your WordPress website can look the way you want with just one click.
By default, any WordPress website looks like this after the installation:
I will be using a popular free theme called Hestia as a case study in this post. For example, after installation, it look like this:
Here is how:
Pick a theme you like
The official directory at WordPress.org, has a lot of free themes. There are also third-party sites for free themes like JustFreeThemes,
And you can get other class of paid themes form sites like StudioPress, ThemeIsle or aThemes and even theme ThemeForest. However, for the sake of this guide, and as earlier mentioned, let us use Hestia theme.
This is most popular free themes in the market today to demonstrate how WordPress themes work.
So, let get it installed.
I have a complete guide on steps on how to choose the right theme for your site.
Install your theme
If you have any theme you wish to install, what you need to do is find the theme by name and just install it. Yes, that is it.
This is the process of theme installation:
Go to Appearance → Themes from your WordPress dashboard and then click on "Add New."
From there, input the name of the theme that you want to install, like this:
The selected named-theme (Hestia) will be displayed. Just click on the install button beneath the chosen theme:
Wait for a second, as the theme will be installed.
Click on the "Activate" button to fully enable it on your WordPress website.
Hestia has so many features stored for you, just click on the button from the welcome bar. The main Hestia dashboard will be displayed, from which you can extend the features.
Let us proceed on that now.
Now, click on the "Recommended Actions" link to see the available features. Of all the available options, click on the "Orbit Fox Companion" now.
Install and activate. Orbit Fox companion is a plugin added to Hestia, to helps enhance the look of your WordPress website.
It has tools to helps create nice homepage, and other sub-pages like "about" or "contact"), and custom menu icons.
At this point, your new theme is active on your WordPress website.
Type yourdomainname.com on your browser to see it. This is just far from what your theme can offer. Now let us customize it to an awesome WordPress website.
Here is how:
Customizing Your Theme
You can come here to read the best way to customize your theme. This is the best guide you will ever get on the internet.
Let start customizing your theme.
Start by going to Appearance → Customize. The main WordPress Customizer interface will be displayed.
Let us start customizing the homepage, Since, it is the first page your visitors will land.
Setting Up Your Homepage.
Follow these steps:
From the sidebar, go to "Homepage Settings."
Choose the, "A static page" option under your homepage display setting.
Then click on "Add New," to help create a new page as your homepage.
Type the name for the page as – "HOME" seems like a good idea – and click on "Add."
With this set-up, the most recent post default listing will be replaced with a completely custom homepage.
By default, your new homepage will display some nice elements on it.
Come here:
For beginners, ensure to modify the core headline on the page. Put either the name of your business or any name that serves as the title for your WordPress website.
To modify it by clicking on the pencil icon that is next to the headline. When you do so, a customization panel will appear on the left.
With the customization panel, you can do a lot including changing:
The background image – change it to an image related to your business
The title – Input the title to your business.
The text under the title – you can remove this completely if you want to
The button text – these button generally lead to your products or most important pages
You can also modify other available homepage blocks from the customizer sidebar:
Getting to Know other Sections
The Features section You explain what your company offers or the purpose of the website
The About section talk about your story here.
The Team section you highlight your team members in this section, let people know those who walk with you.
The Ribbon here you mention your primary call to action.
The Testimonials section you showcase the testimonies of your customers about your business here.
The Contact section you display your contact details in this section and let people know how to well reach you.
There are more sections available for you to employ. Browse through them and pick the ones that is peculiar to your business.
After adjusting the homepage, remember to click the main "Publish" button at the top of the page.
Modifying the typography.
Let us modify your WordPress website's typography, i.e. the fonts used on your site.
Follow this process;
Appearance Settings → Typography from the WordPress Customizer sidebar.
Pick a font you desire and see it on your site immediately.
Choose Your Website's Colors.
You new WordPress website need awesome colors to keep it glowing, you can keep the default color.
But if you chose to change it, follow this step:
From the WordPress Customizer. Just click on Colors in the main sidebar.
The Accent Color is used for buttons, links, and other things meant to stand out from the rest of the WordPress website's design.
After adjusting the colors, your WordPress website will start looking like it is truly yours. Do the necessary fine-tuning and customizations to make it match your brand.
There are other settings in the WordPress Customizer to explore. For example, you can:
Choose the default layout of your website – either on the left, right, or nowhere kind of sidebar,
Also, the way you want your blog listing to be displayed, You might want a background image for the entire website,
You can also change the shape of the buttons, and much more.
Step 5: Install Plugins
Plugins help to extend the functionality of your WordPress website.
Plugins helps you get great features without knowing any coding.
Recommended plugins for Your WordPress Website
The plugins I am recommending here are best of all, they are all free:
RATH MATH – helps you make SEO adjustment and make your site more accessible to the search engines in general, a good alternative is the Yoast SEO
Google Analytics for WordPress –integrating this into your website, you get the traffic analysis of your website.
Wordfence Security – improves the security of your WordPress website.
UpdraftPlus – this plugin does an automatic backups of your website.
Optimole – it helps optimizes your website's images.
WPForms – with this plugin, you can add interactive contact forms to your website, this will help your visitors contact you directly.
Follow this step to install your choice of plugin:
From your WordPress dashboard go to Plugins → Add New.
Once there, type in the name of the plugin you want to install into the search bar, thereafter click on "Install" and "Activate."
Step 6: Basic pages For Your WordPress Website
There are basic pages for every websites, regardless of the intent or goal.
But, let us go through how to create a page first:
To create any kind of page, head your way to;
Your WordPress dashboard, and then Pages → Add New. You will see;
A place you write the headline of the page.
The body section – this is where you write main content of the page.
You can add images by clicking the image button.
The Text and Visual editors. Use the text editor only if you are not familiar with HTML code.
The Publish section. Is where you click to make your pages go live on the internet.
Discussion. Here you decide to allow or disallow comment on the page. The "trackbacks and pingbacks" setting you can leave unchecked.
Featured image. This is displayed in the an important spot alongside your page.
Now that you have known the how-to, here are the pages you should start creating:
About –This page is a must-have for anyone who wants to make a WordPress website. You get to tell the story of what your website and reasons people should pay attention.
Contact – Here, you display your contact details with a nice contact form using the WP contact form, where people can contact you directly.
Privacy Policy – this page tells every visitor on your website your.
Portfolio – a section to display your past work.
Store – this is important, only if you choose to sell with your WordPress website. You will need a popular WooCommerce plugin – the best e-commerce solution for WordPress to sell on your site.
.
Step 7: Consider starting a blog
A blog (as well as marketing through content – aka "content marketing" in general) is among the most effective ways to promote not only your website but also any products that you might want to sell through that website.
And it's not just me saying this; there's raw data proving that blogs are a superior tool for marketing online, with 55% of marketers saying that blogging is their top inbound marketing priority.
Running a blog is a straightforward concept. What you do is publish articles related to the topic of your website and do it regularly.
From a technical point of view, WordPress has blogging tools built right into it from the get-go. In fact, WordPress started as a blogging platform.
To create a new blog post, all you need to do is go to Posts → Add New (from your WordPress dashboard).
The process of creating a new post is the same a creating a new page. The dissimilarity is that, you assign a post to categories and tag, you do not with pages.
This is an example of adding a new post: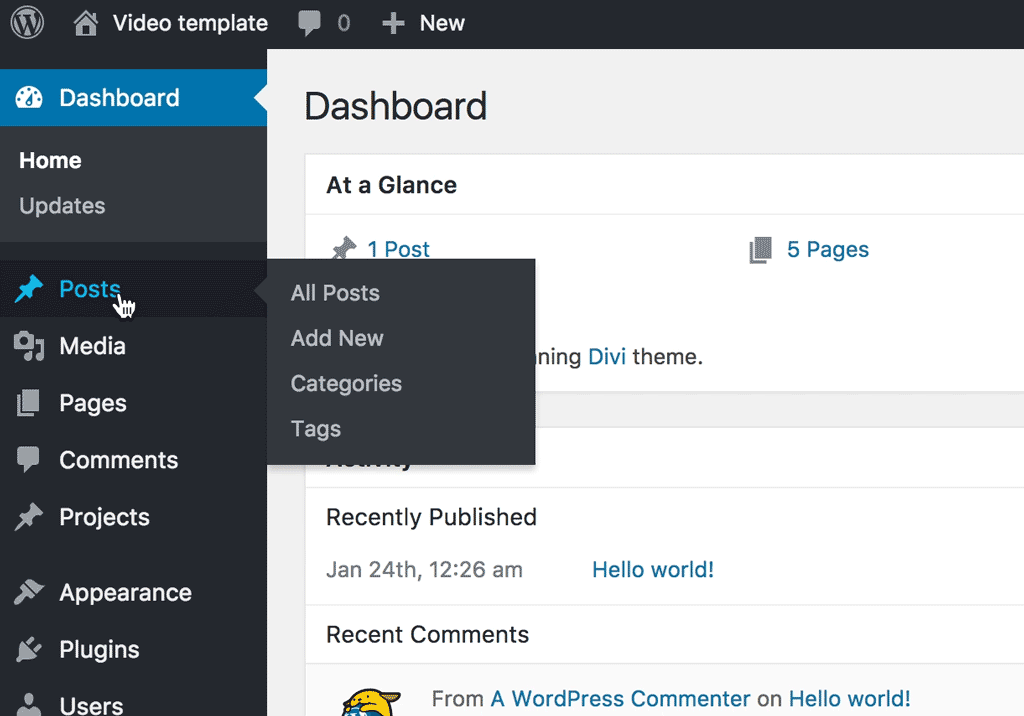 When you are done writing a new post, you can publish it by clicking the publish button.
Ensure to make you post a unique and qualitative one.
Now that you have put in place and publish the important pages, let us fine-tune your website navigation.
This is to allow your website visitors navigate your website easily. We will be fine-tuning two elements:
Menus
When configuring your WordPress website navigation, Menu is the most important navigation channel via your configured menu, your visitors can run through your site with easy.
Let quickly configure the menu using the menu settings. (Using Hestia theme);
From your WordPress dashboard, go to Appearance → Menus.
This default panel will display: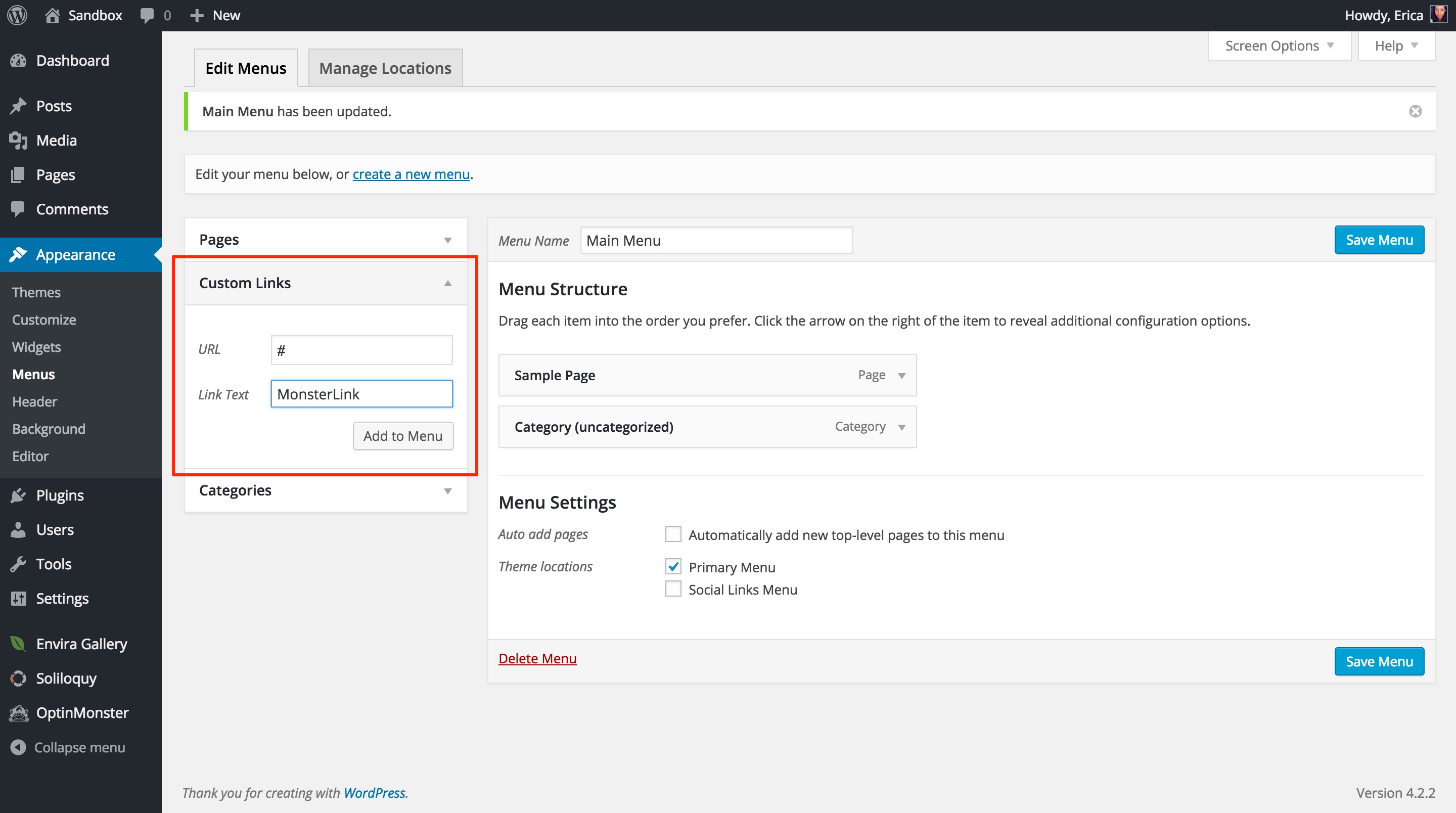 You will see all your created pages at the left side, choose the ones you want.
Add them to the menu. The structure of the menu and its setting is located at the right side.
Select some important pages like About, Contact, Privacy Policy and add to the menu. Just drag and drop the menu items in the menu.
After adding these items in the menu, select the your desired location. Select the "Primary Menu" so as to place the menu at the top section of your website.
This should be you main menu for your WordPress website. Click on "Save Menu" to save the settings.
Also, you can create another menu following the same procedure as above. This new created menu should have another location.
You should assign this new menu as the "Footer Menu." When you go to your site now, you'll see the menu in place.
The next element is;
Widgets
This is small block meant to display content at various location within your WordPress website.
Widgets are mostly placed in the sidebars and footer of websites.
Setting up a widget on your website, from Appearance → Widgets in your WordPress dashboard.
This will display on your screen:
Hestia theme has a number of widget, let us add widget to your website.
To include widget to the widget region, just lift any widget from the left and drop it into your desired widget region on the left.
Let us take for example, on my site, I have custom HTML, Recent Posts, Follow widget, categories and ads widget in my sidebar.
With all these settings ( widgets and Navigation) accomplished, your site is basically prepared to go live.
Conclusion
Bravo! You have learn how to make a WordPress website on your own. The amazing thing with this how-to-do guide, is that you can make the own process yourself.
Starting a website with the WordPress CMS, is the most pocket-friendly answer available. I have article on how to you can promote and monetize your site.
Should you have any other questions around WordPress, drop it in the comment box below.
Originally posted 2020-07-04 11:50:00.